Across the United States, statues of Confederate leaders and other historical figures linked to slavery and the killing of native Americans are being torn down, defaced, destroyed, relocated or removed following protests related to the death of George Floyd, a black man, in police custody on May 25 in Minneapolis.
In New York, the American Museum of Natural History announced on Sunday that it will remove a statue of Theodore Roosevelt, the 26th US president, from outside its main entrance. The statue shows Roosevelt on horseback, flanked by an African American and a Native American on foot. The museum has not yet said what it will do with the statue.
In Houston, two Confederate statues in public parks have been removed. One of those statues, the Spirit of the Confederacy, a bronze statue representing an angel with a sword and a palm branch, had stood in Sam Houston Park for more than 100 years and is now in a city warehouse.
The city has arranged to relocate the statue to the Houston Museum of African American Culture.
While some call for and take action to get rid of the Confederate statues, others defend them.
In Richmond, Virginia, the statue of Confederate general Robert E.Lee has become a center of conflict. Protesters demanded the statue be taken down, and Virginia Governor Ralph Northam issued an order to remove it.
However, the order was blocked as a group of property owners filed lawsuit in a federal court arguing that removing the statue would devalue surrounding properties.
Federal Judge Bradley Cavedo ruled last week that the statue is the property of the people based on the deed of the structure from 1890. He issued an injunction barring the state from taking it down before a final ruling is made.
A 2016 study by the Southern Poverty Law Center, a nonprofit legal advocacy organization, found that there were more than 1,500 public Confederate symbols across the US in the form of statues, flags, state license plates, names of schools, streets, parks, holidays and military bases, mostly concentrated in the South.
The number of Confederate statues and monuments then was more than 700.
Differing views
The National Association for the Advancement of Colored People, a civil rights organization, has called for the removal of Confederate symbols from public and government spaces for years. However, there are different views on how to deal with historical artifacts.
"I am torn about this because this is the representation of our history, this is the representation of what we thought were OK," said Tony Brown, a black professor of sociology and director of the Racism and Racial Experiences Workgroup at Rice University. "At the same time, we might have a wound in society, and we don't think it's OK anymore and would like to remove the images."
Ultimately, Brown said he would like to see the statues stay.
"We tend to want to whitewash our history. We tend to want to say racism is not part of who we are, not part of our structures, not part of our values. So, when you take a statue away, you are whitewashing our history, and from that moment forward, it tends to make those who move the statue feel they have done enough," he said.
Not making things go away but making things visible with context is exactly how you make people understand how deeply embedded racism is, Brown argues.
"The currency of our nation is made from cotton, and all our money is printed with white men, and some of them owned slaves. When you show that kind of evidence, you say, wait a minute, we pay things with cotton printed with slave owners. Then you see how deeply embedded the racism is," he said.
James Douglas, a law professor at Texas Southern University and president of the Houston chapter of the NAACP, would like to see the Confederate statues removed.
"They have nothing to do with Civil War. The statues were erected to honor the Confederate soldiers and to let African Americans know that the white people are in control. They were erected in order to demonstrate the power white people had over African Americans," he said.
Decision slammed
Douglas is also a critic of Houston's decision to move the Spirit of the Confederacy statue to the museum.
"This statue is to honor the heroes who fought for state rights, in essence those who fought to keep African Americans as slaves. Do you think anybody would suggest putting a statue in a Holocaust Museum that said this statue is erected to honor the people who killed the Jews in gas chamber?" he asked.
Statues and memorials are for honoring people, Douglas said. Just putting them in an African American museum does not take away the fact that the statues honor them.
For Brown, leaving the statues in place doesn't honor that person.
"To me, it indicts the institution. When you have a Confederate statue, it does not say anything about the person. It says something about the leadership. It says something about everyone who co-signed on that statue, everyone who said that statue belongs there. I don't think you want to erase that history," he said.
Brown said people should spend more time reckoning how it is that "we decided those are our heroes to begin with, reckoning how we decided those images were OK".
The Black Lives Matter movement is forcing America to reexamine its past beyond Confederate statues.
HBO temporarily removed the 1939 film Gone with the Wind from its online offerings last week and plans to rerelease the classic film with a discussion of its historical context. The film has been criticized for glorifying slavery.
Also, last week, Quaker Oats Co announced it was removing the image of a black woman from the packaging of its 130-year-old syrup and pancake mix brand Aunt Jemima and changing its name. Mars Inc followed suit by removing the image of a black man from the packaging of its popular rice brand Uncle Ben's and said it would rename it.
The two brands were criticized for their stereotypical images and the use of honorifics reflecting a time when white southerners used "aunt" or "uncle" because they didn't want to address black people as "Mr" or "Mrs".
Both Brown and Douglas find HBO's move a sensible one, but they view moves by the two food corporations differently.
Negative depiction
"It's the right thing to do," said Douglas. "We got major corporations to realize the fallacy of their ways. They are (saying), 'We want to change because we realize this is a negative depiction of African Americans.' They recognize it now and they are getting rid of them."
For Brown, the moves are just another way for the corporations to sell more products.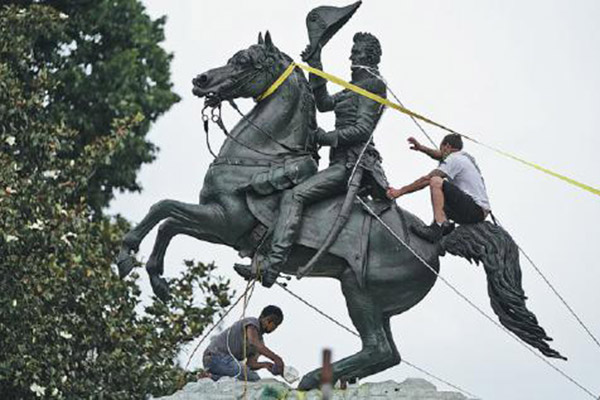 Protesters try to pull down the statue of Andrew Jackson, former US president, at Lafayette Park in front of the White House during racial inequality protests in Washington, D.C., on Monday. JOSHUA ROBERTS/REUTERS
---
Post time: Jul-25-2020