There was a time when ancient humans created images in the caves and there was a time when humans became more civilized and art began taking shape as kings and priests supported various art forms. We can trace back some of the most iconic artworks to ancient Greek and Roman civilizations. Over the past few years, various artists have created breathtaking marble statues that are inspired from the classic subject of ancient civilization – mythology.
Greek gods, goddesses and mythological heroes have been a subject in art. These themes have inspired beauty in various residential and commercial settings. The legacy of Ancient Greek sculptors has stood the test of time and remains powerful even today. There is a wide variety of mythology themes marble statues that pays homage to the precise forms and the skilled command of the material that the ancient artisans worked with.
To help you pick a beautiful sculpture for your home, we have compiled a handful of mythology inspired marble statues. These pieces will excel indoors, beside greenery or out in the nature. Read on to find more about these works of art that can be made to order to accommodate to your design requirements and available space. Enhance your home's style with these marble statues.
Marble Statue of Greek God Dionysus
(Check out: Marble Statue of Greek God Dionysus)
This beautiful marble statue of Dionysus, the Greek god of the grape-harvest, winemaking, orchards and fruit, vegetation, fertility, festivity and theater is a revered figure in ancient Greek religion and myth. The statue features the God of fertility and wine standing on a marble pillar. There is some fruit by his feet. He is holding a cup of wine in a gesture that is currently known as raising a glass for toast. Alike other ancient figures, the statue of Dionysus is draped in minimal clothing and a drape is hanging low wrapped around his both arms. The statue has curly hair and a gently expression on his face. Dionysus is also known as a patron of art, which is befitting if you are a fan of the visual arts. Carefully carved from natural white marble, the statue features delicate quality of the natural stone. Each aspect of the figure has been captured brilliantly. You can place this gorgeous marble statue of the son of Zeus in your garden, patio, and living room or basically anywhere you desire in your home. It is a perfect piece for contemporary or modern homes or gardens.
Greek Family and Baby Angels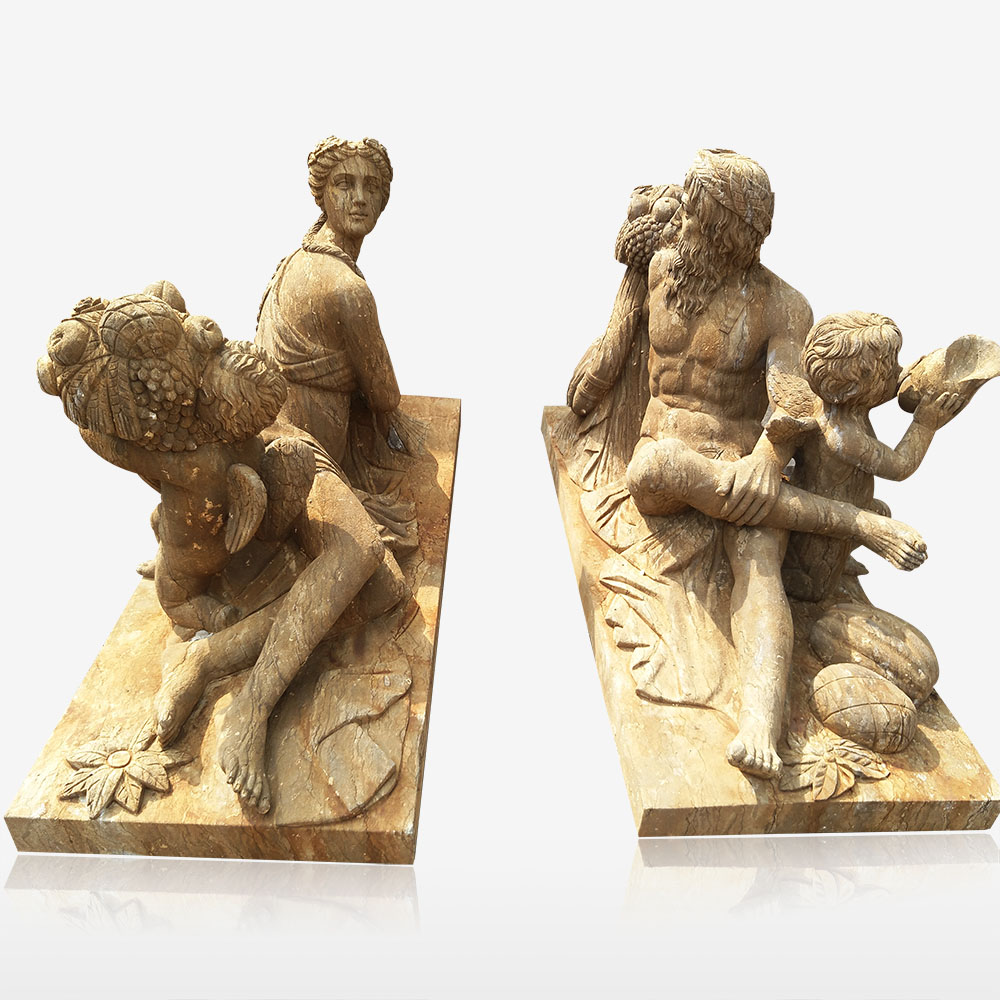 (Check out: Greek Family and Baby Angels)
This set of two features four statues, most likely a Greek family in ancient Greece, out on a picnic. There is a male figure, a female figure and two child angel figures alongside a bunch of fruit. Made from rustic beige natural stone, these statues are neatly positioned on two flat slabs, which look like sprawled mats. On slba feature a man sitting up with his legs crossed and a bare piece of cloth covering the lower part of his abdomen. Next to the man is a child angel holding a fruit. The man is looking behind and there is a stash of fruit behind him. On the other slab, a woman is half-laid while a bare minimum of garment covers her up. There is a child angel next to the woman holding a lot of fruit in its tiny arms. The stone statue set has a exquisitely vintage vibe about it and will be a brilliant addition to any modern, contempory of mid-century modern home or garden.
Poseidon Marble Statue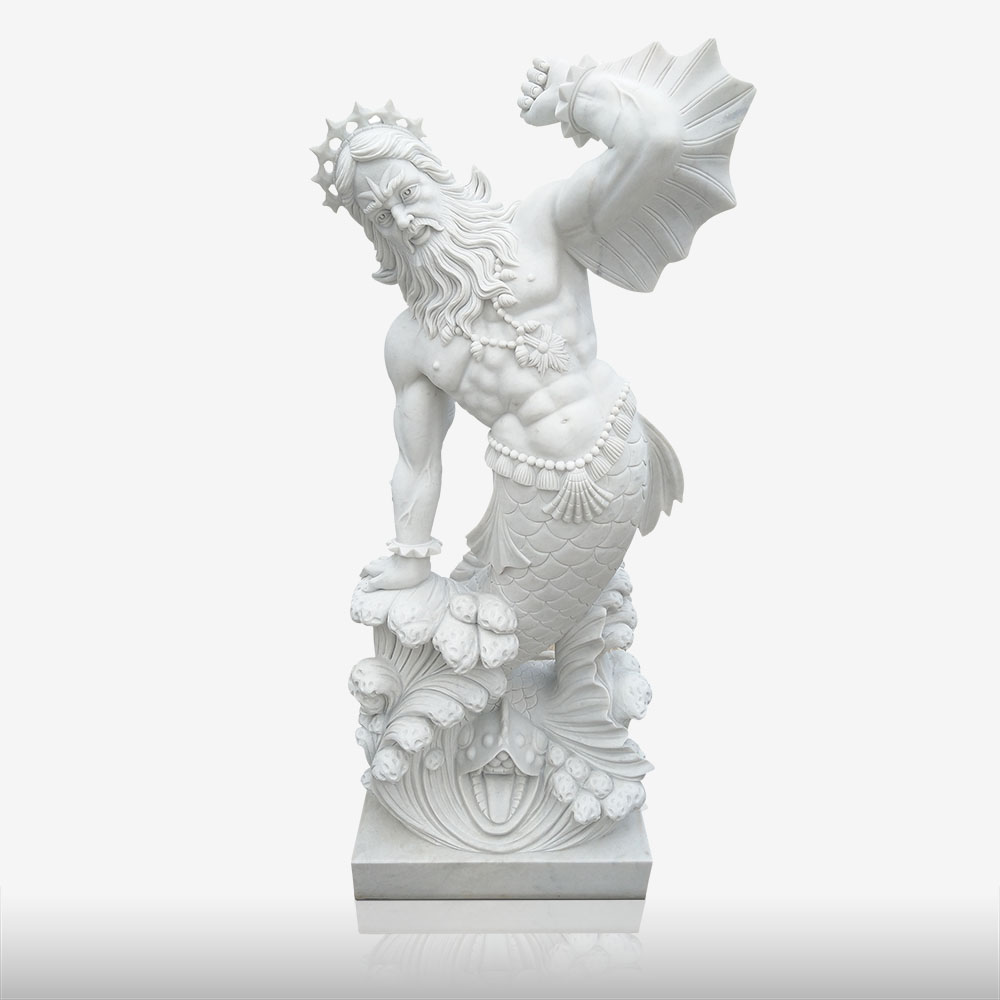 (Check out: Poseidon Marble Statue)
Poseidon, Greek god of the sea, is one of the most revered and famous deities of the old world religion. Even if you are not a devotee and merely a fan of Greek mythology, you can proudly showcase this gorgeous white marble statue of Poseidon in your home or garden. Poseidon was a brother of Zeus, who was the chief deity of ancient Greece, and of Hades, who was god of the underworld. Poseidon's weapon and main symbol was the trident, which is missing in this marble statue. The god of the sea is poised on water waves and fish and the lower half of his body is depicted as of a mermen. He is wearing minimalistic jewelry made from seashells. He has agitated expressions as if he has just thrown his trident on his enemy. His arms have fins like the fish. By placing this statue of the Olympian god in your home, you evoke spirits of beauty, control and strength.
Saint Sebastian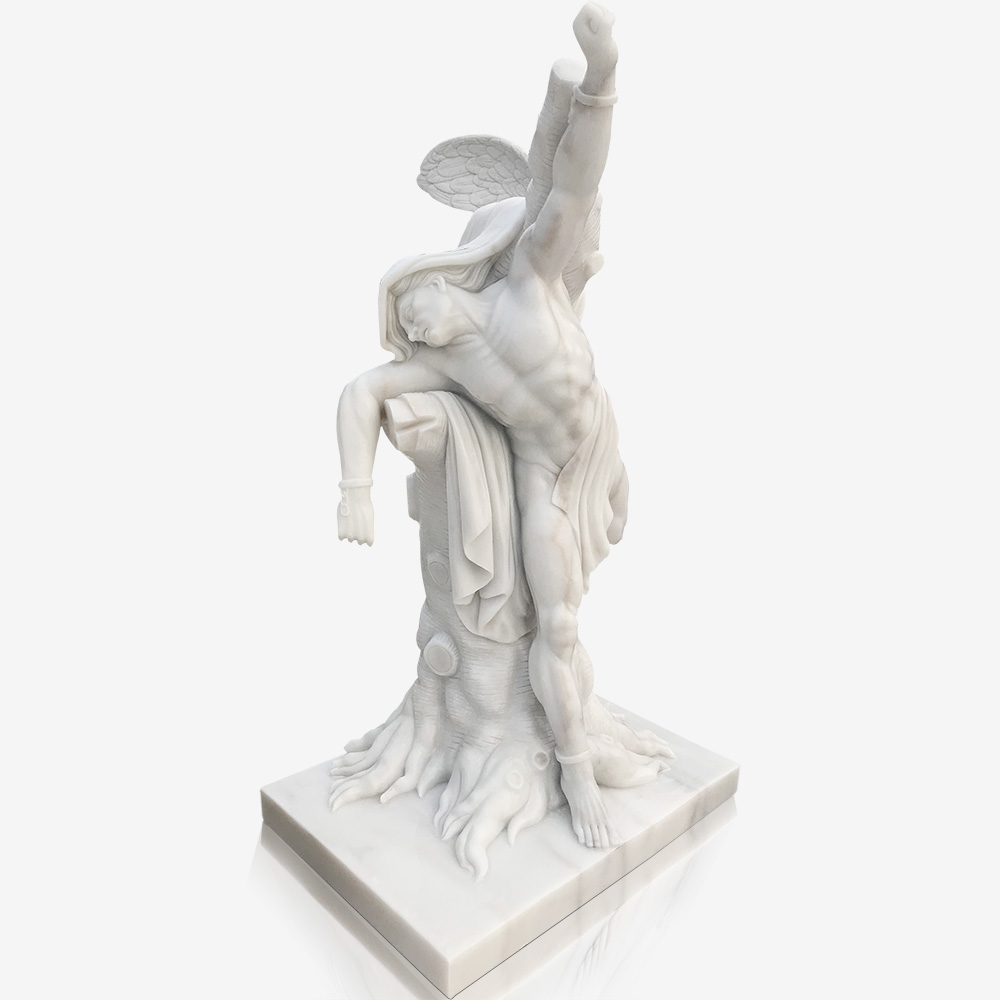 Saint Sebastian was an early Christian saint and martyr, who was killed during the Diocletianic Persecution of Christians. According to traditional belief, he was tied to a post or a tree and shot with arrows. This white marble statue of the saint only depicts him being tied up to a tree stump. He seems to be in pain and probably unconscious during his execution. The marble statue has been carved with such fine craftsmanship that it captures every aspect of the male beauty brilliantly. The entire piece is gracefully poised on a matching white marble slab, which has matching subtle gray veining as the statue. One arm of the statue is tied to a protruding branch, while the other hangs limp on the other side. There is a piece of garment over the statue's head, which mostly covers its hair and the groin. This beautiful statue evokes the spirits of holiness, spirituality and resilience of the pure. Any devout can have this marble piece in their home or garden to pay homage to Saint Sebastian.
Atlas Holding the World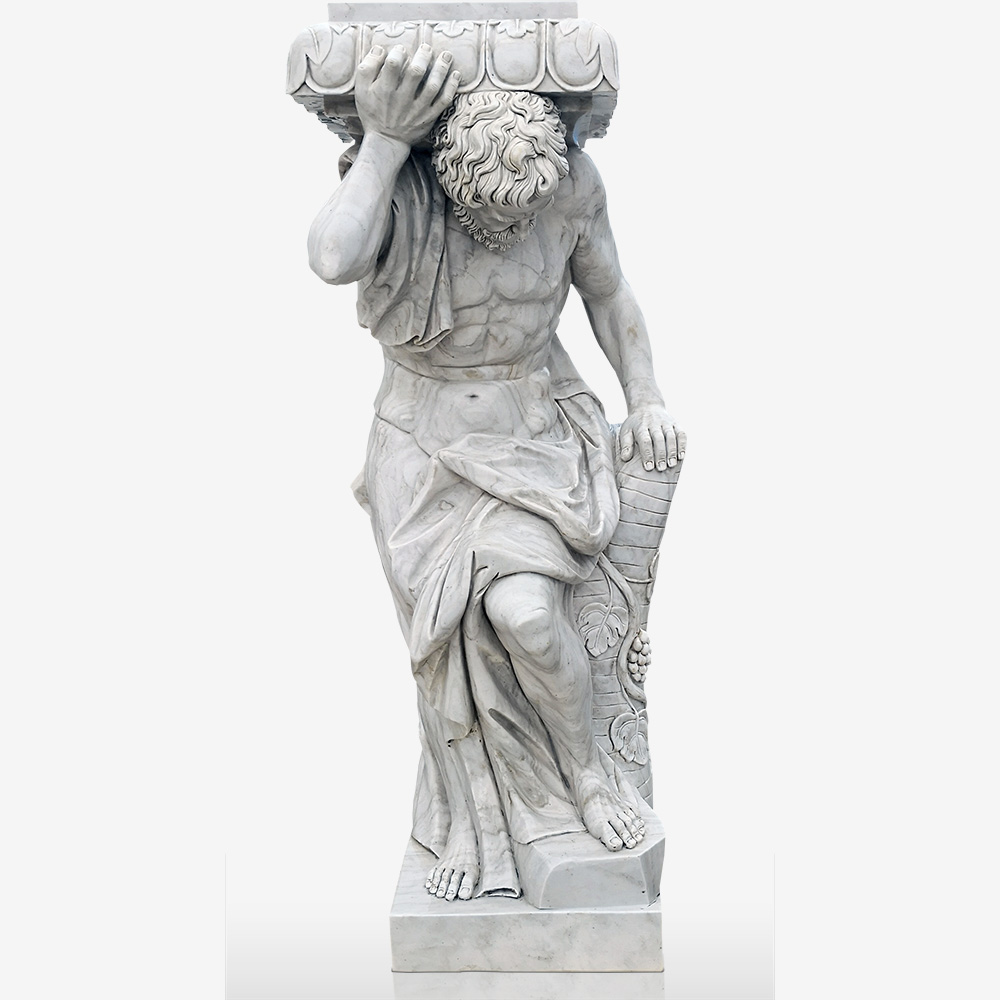 (Check out: Atlas Holding the World)
This marble statue of Atlas holding the world seems like an iteration of the Farnese Atlas, which is a 2nd century AD Roman marble sculpture of Atlas holding up a celestial globe. Atlas holding the world on his shoulder has been a very popular subject of art that began in Hellenistic period. Atlas, a Titan of Greek mythology, is the oldest known representation of anything planetary. This gray marble statue has been wonderfully carved from natural stone material by skilled artisans and will make a brilliant addition to any modern, contemporary or mid-century modern home or garden. The statue is placed on a matching marble slab that has a tree stump, which is offering some support to the man holding a giant, heavy thing over his head. Each aspect of the statue – be it the clothing, the hair, the physique, has been crafted adeptly, giving it a distinct elegance that will not only raise the style quotient of your home but increase its value as well.
Marble Mythical Creature Birdbath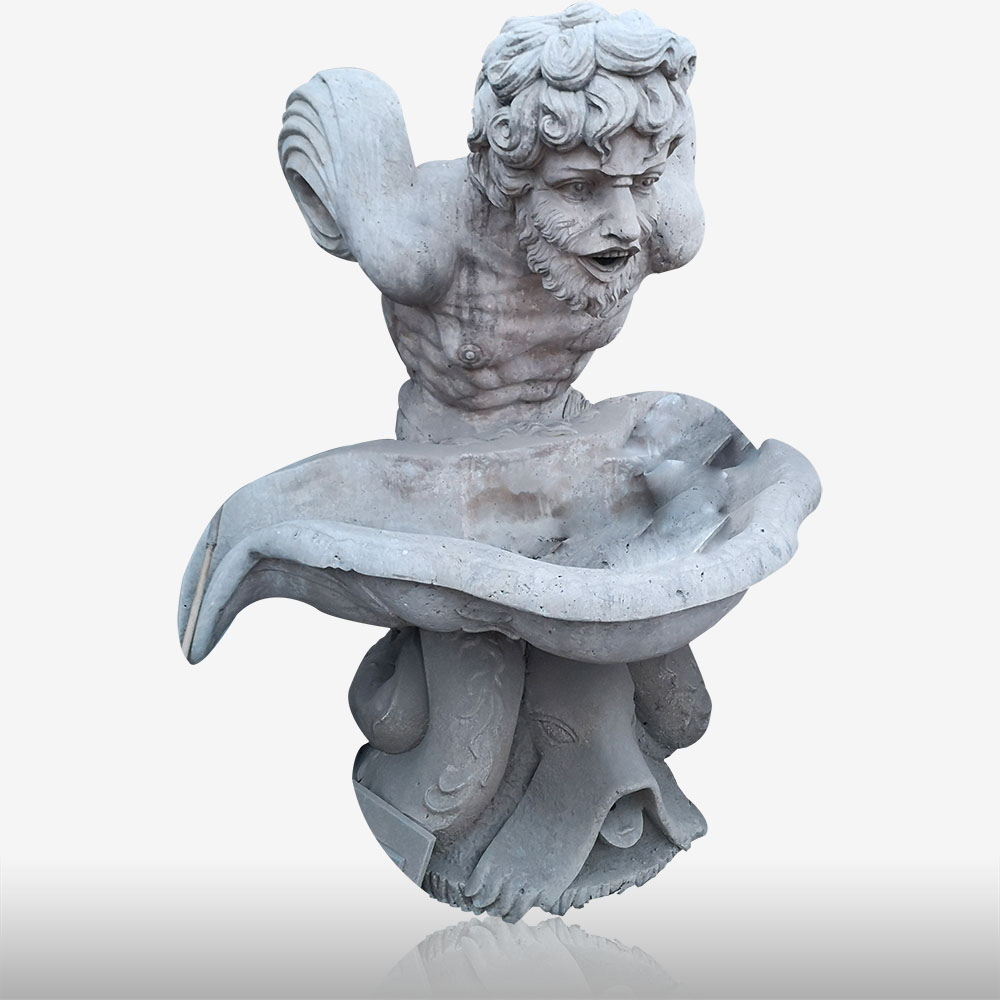 (Check out: Marble Mythical Creature Birdbath)
There is something incredibly alluring about mythical creatures. Take this marble mythical creature birdbath for instance. It features a shell-shaped birdbath and a man's torso protruding from one edge. The base of the marble feature has strangely beautiful carvings. Crafted from natural stone material, this feature will become an instant conversation starter whether you decide to keep it inside your house or display it on your patio or in your garden. The man has somewhat scary expressions so you might want to keep any kids away from it. Anyhow, this marble piece is suitable for any modern or contemporary layout and will make valauble addition.
---
Post time: Sep-28-2023